On this Page
Our future is positive and progressive. As society changes, so will we. We intend to be a regulator that consistently functions with transparency, relevance and effectiveness
Work with us
Join our dynamic and committed team by visiting www.careers.vic.gov.au
Current vacancies
For all of our currently advertised employment opportunities, click here.
Code of conduct
Read the Victorian Public Sector Commission Code of Conduct here.
Who we are
The Victorian Legal Services Board and Commissioner (VLSB+C) is the regulator of the legal profession in Victoria. Our goal is to maintain and enhance public trust and confidence in the legal profession. We do this because the integrity of the legal profession is fundamental to the legitimacy of the justice system and the maintenance and protection of the rule of law. We employ about 100 staff and provide a professional and friendly workplace with a culture that focuses on supporting an employee's learning, development and wellbeing.
We are a values driven organisation that strives to deliver the best experience for everyone that engages with us, especially our staff.
Our commitments
The image below outlines the commitments and behaviours we have agreed to as an organisation: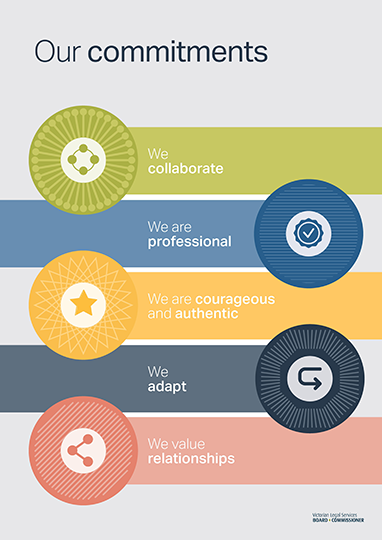 Inclusivity
We are committed to creating an inclusive and diverse workplace. Our Access and Inclusion Plan identifies 36 actions to be implemented across three years, and outlines our strategy to improve how people living with disability access our organisation and services. The pandemic limited the number of actions we were able to complete last year, however we have:
embedded social procurement principles into our standard procurement practices
reviewed our internal communications and guidelines to ensure accessibility principles were included
provided training for our staff on understanding issues faced by people living with disability
undertaken an external audit of our website to ensure compliance with web accessibility guidelines.
We have also progressed work towards improving our event management processes, customer service charter and our workplace adjustments policy.
If you need support with the recruitment process, please contact our People and Culture team.
The VLSB+C is committed to Equal Employment Opportunity, ethical practice, and the principles of Cultural Diversity and social inclusion. We continually seek to attract and retain a diverse workforce, which includes people of all genders, ages, religions, disability, sexual orientation, family and caring responsibilities and cultures including people of Aboriginal and Torres Strait Islander heritage.
It is the policy of the VLSB+C to provide workplace adjustments for qualified persons with disabilities who are employees or applicants for employment.  If you need assistance or adjustments to fully participate in the application/interview process, please contact the VLSB+C People & Culture Advisor. 
What we offer
Flexible working arrangement
We support flexible working arrangements for all staff, many of whom are parents or carers. We believe that our flexible approach improves the productivity of our staff and is conducive to an optimal work-life balance.
Recognition program 
Our Recognition Program is a way of acknowledging teams and individuals who demonstrate a commitment to our strategic principles. The initiative encourages staff to nominate colleagues who have gone above and beyond, and rewards outstanding members of staff on a quarterly and yearly basis.
Leadership development
We invest in our staff by providing valuable skills that aid professional development. Our Leadership Development Program was designed to create a common leadership language through which expectations can be shared and aligned. The program includes seminars and masterclasses and addresses the various aspects of leadership.
Our Commitment in Focus Program
Our Commitment in Focus Program encourages teams to engage with our workplace commitments in new ways. The program's activities have included team discussions on our commitments, and an integration of our commitments into the recruitment process. The purpose of the program is to bring our commitments to life while building connections within and between divisions.
Hear from our people
"I started working at the VLSB+C after nearly a decade of working in private practice. The decision to leave my job as an Associate at a close-knit, commercial litigation law firm was a difficult one but I was attracted to the opportunity to contribute to the profession I deeply care about in a different and meaningful way. In every role that I have undertaken within the organisation I have found the work engaging and rewarding and have been able to work with inspiring and passionate peers, colleagues and leaders in the legal profession."

- Alice, Regulatory Compliance Programs team member
"I appreciate an employer that respects its staff, and one of the ways the VLSB+C shows this is through their commitment to flexible work. For the past several years I have been able to stagger my start and finish times, which supports my work-life balance. I can then take care of getting my children ready and off to school, which in turn takes some pressure off my partner and allows her to pursue her career objectives as well."

- Brad, Strategic Communications and Engagement team Member
"I have had three pregnancies at two-year intervals while at the VLSB+C. The timing of my return from leave each time was at my choosing and suggestions for alternative duties to reduce disruption to work tasks were listened to and accepted."

 

 - Amy, Senior Investigations Officer