Changing my practising certificate type
Use these instructions to change your practising certificate type. For example, you may move from employee to principal, or from a principal to a government type.
If you are not changing your practising certificate but would like to update your employer or personal details, please instead use the 'Update my personal details'  or 'Change my place of practice' user guides. 
Enter your log-in details
Your username is your practitioner number [P1234567] which you can find on your current certificate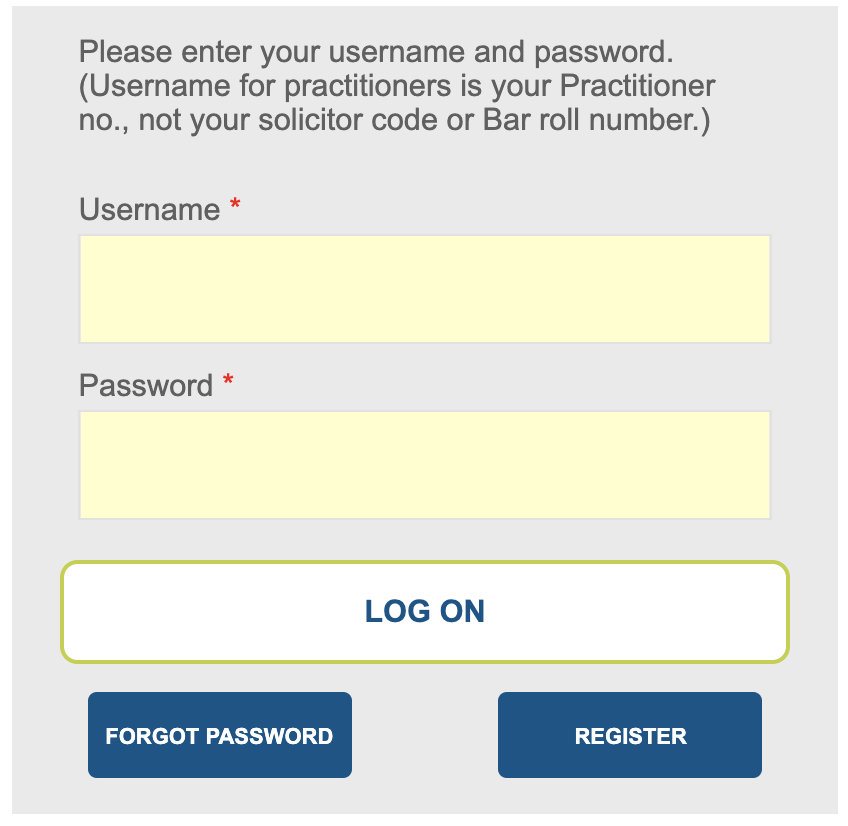 Select 'Practicing certificates' from the menu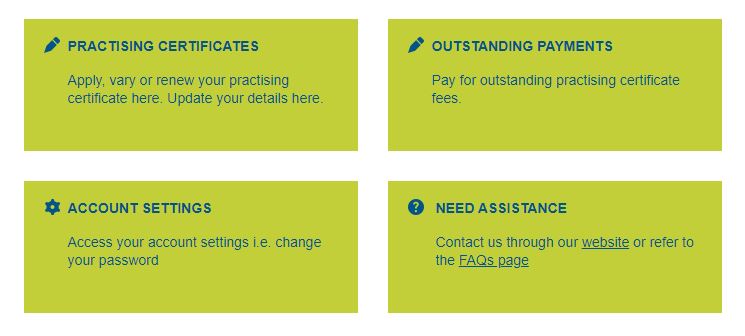 Select 'Apply for or change your practising certificate'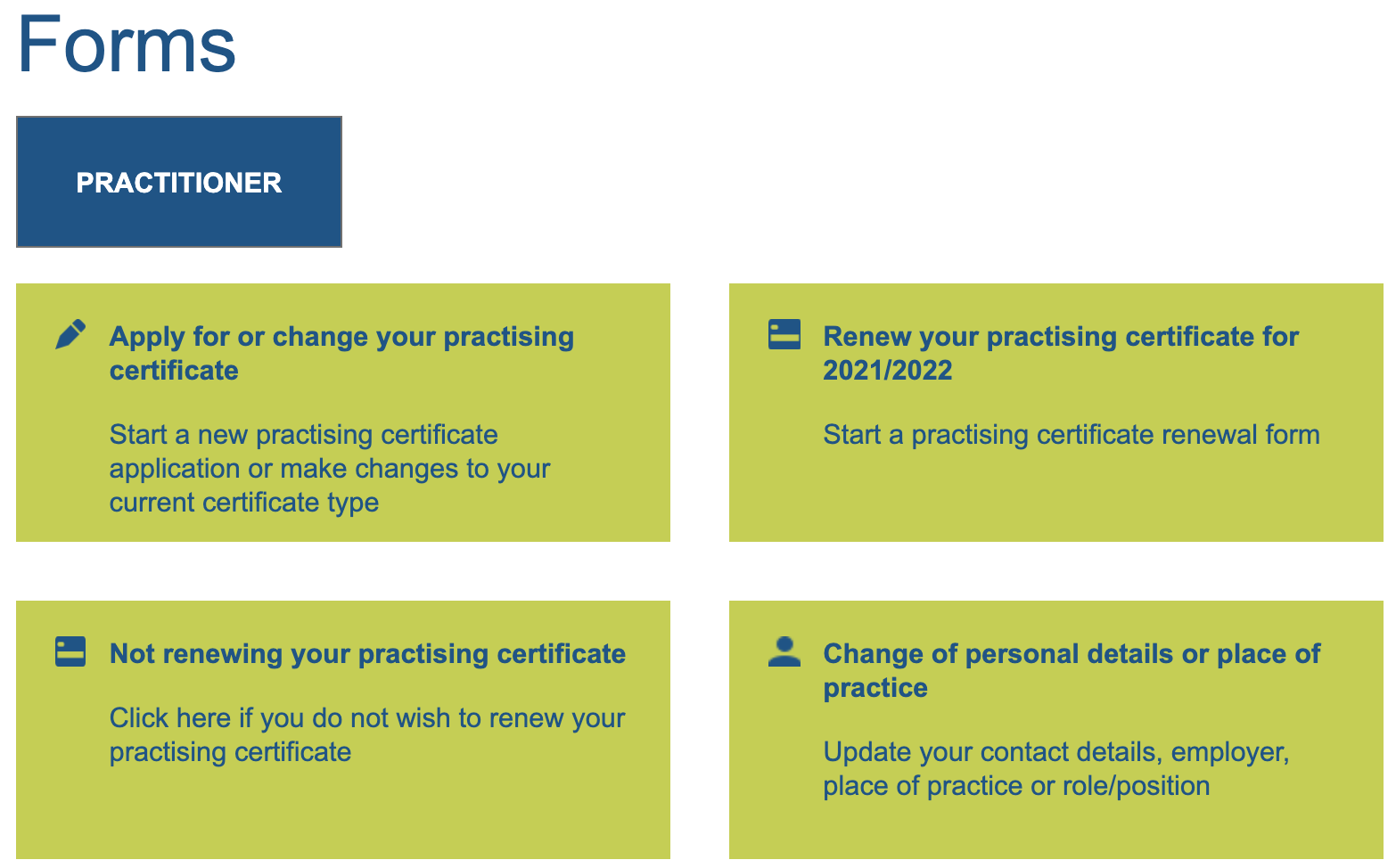 You will see the practising certificate application and variation form home screen. It contains six sections to complete, however many areas will be populated with your existing information.
The blue '?' buttons contain useful tips to help you complete the form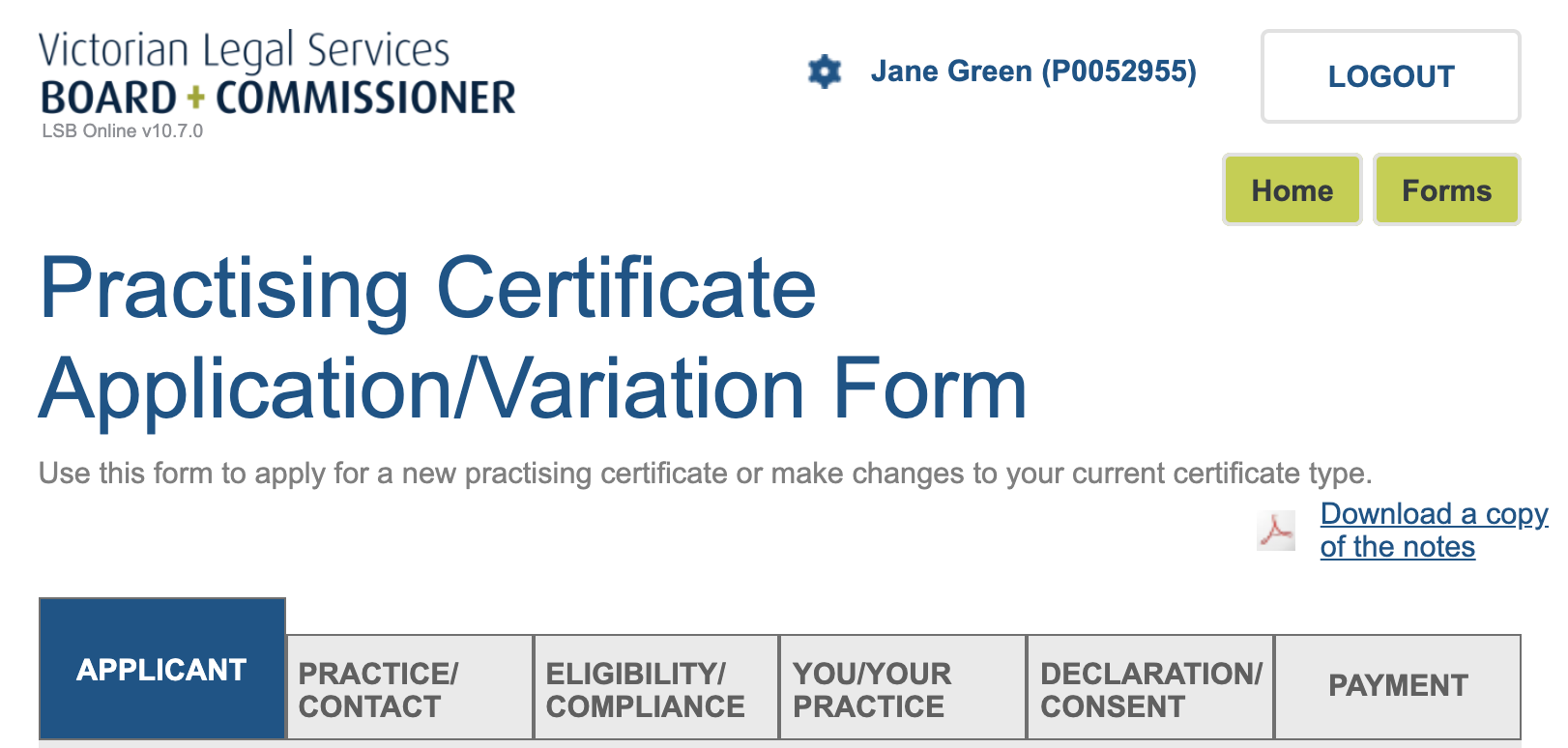 Most of your details will already be populated. Please check these are correct.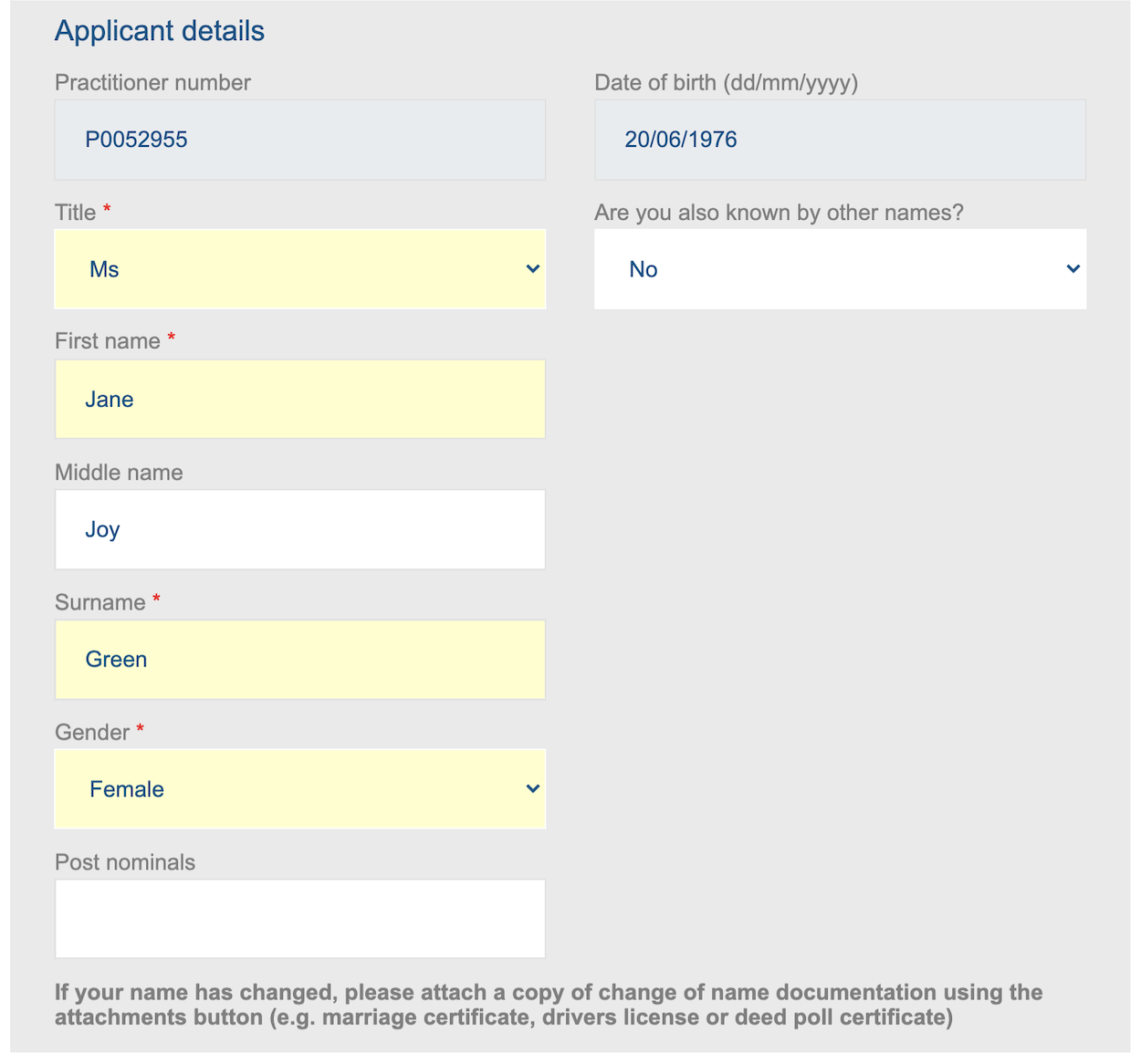 The 'Date practising certificate to take effect' needs to be the same as the day your new certificate type begins - for example, the date start work with your new employer or in your new position. This date can't be before the date you submit your application to us.
Select your new 'Practising certificate type' from the drop down.
If you are registering for a principal certificate you will need to complete an approved practice management course or complete the principal practising certificate application form before applying online. Please see the principal practising certificate FAQs for more information.
You will also need to register any new entities with us – for example, if you start a new sole practice or law firm.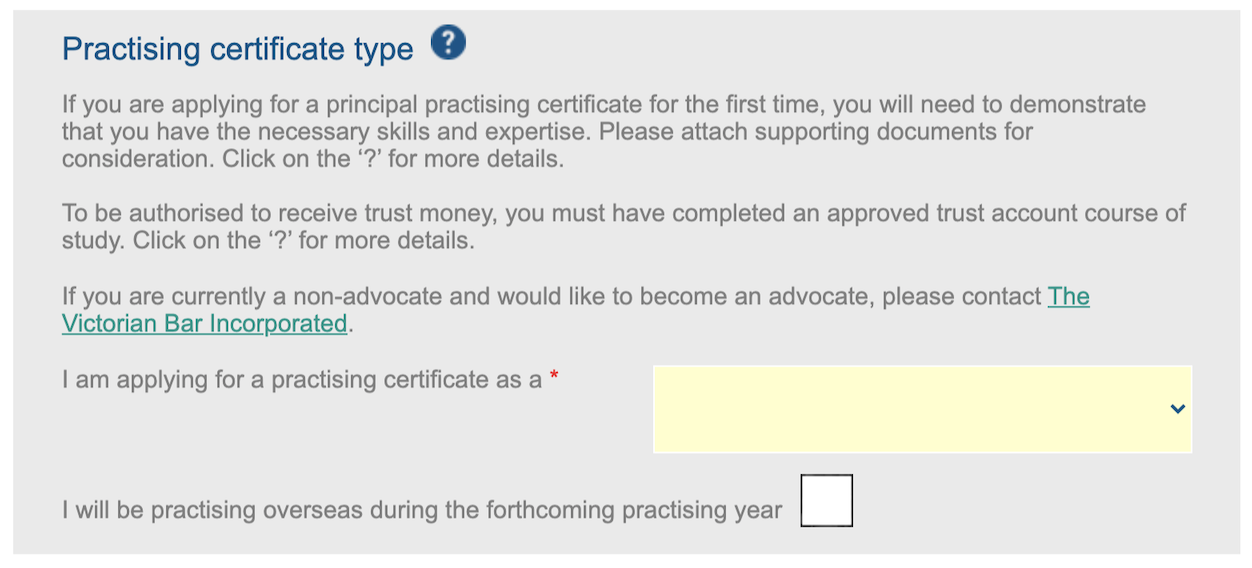 If you have also changed organisations you need to update this here. Skip this step if you have not changed organisations.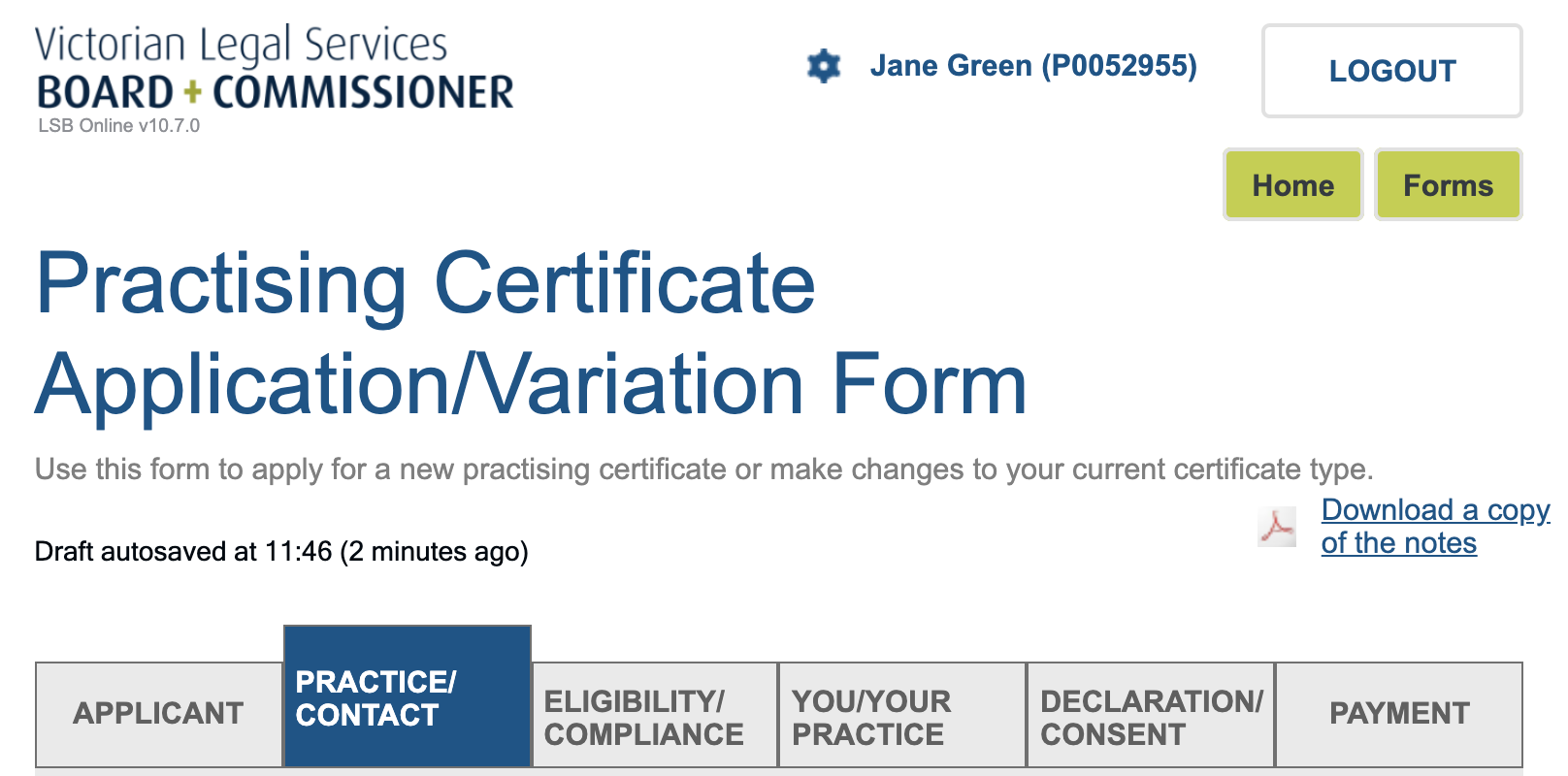 Under the section 'Current practices' you will find a drop down menu with your current place of practice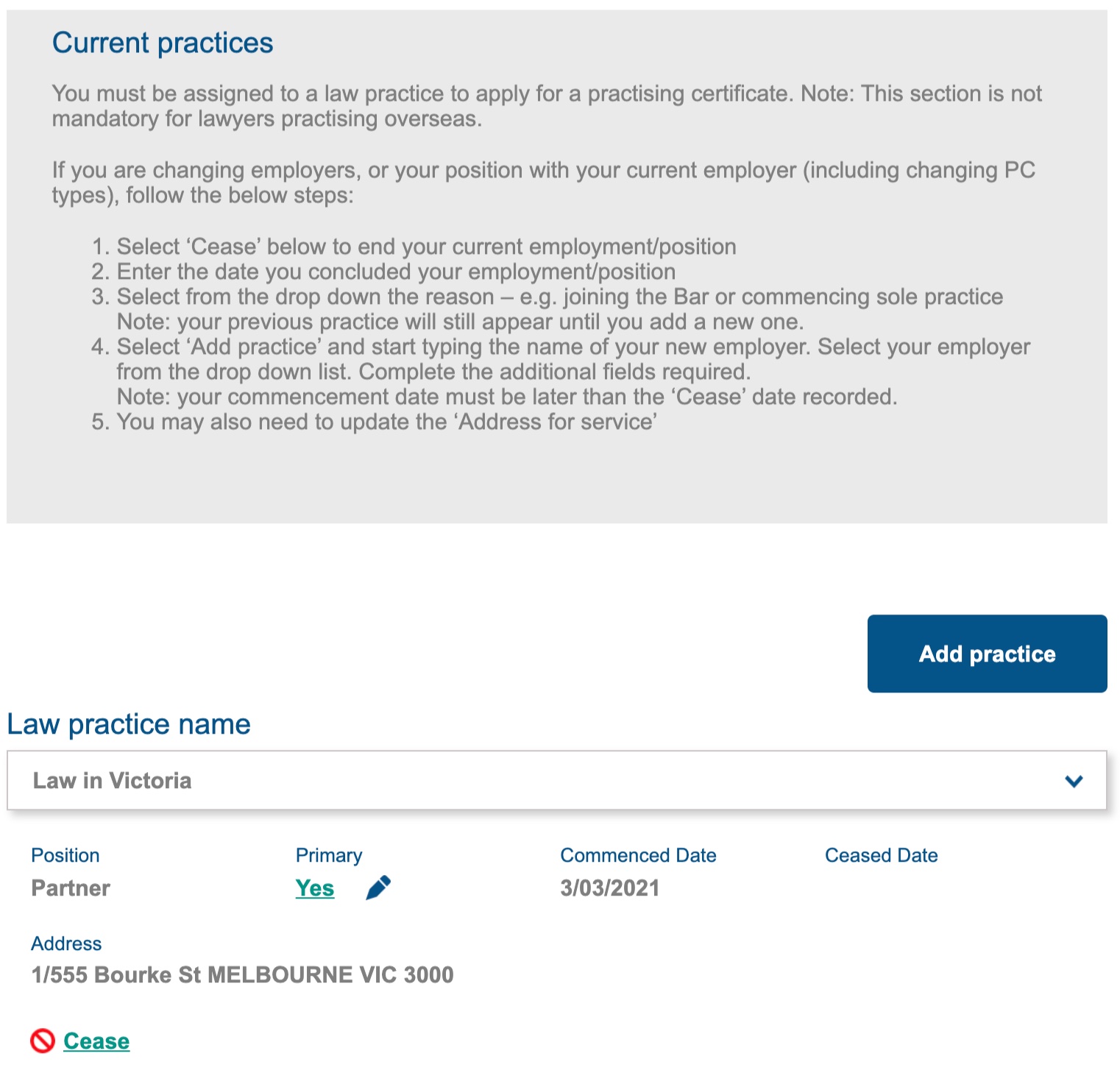 Click on the 'Cease' button

Enter the date your position with your employer will cease. Select your 'Cease reason' from the drop down menu.
Click 'Continue'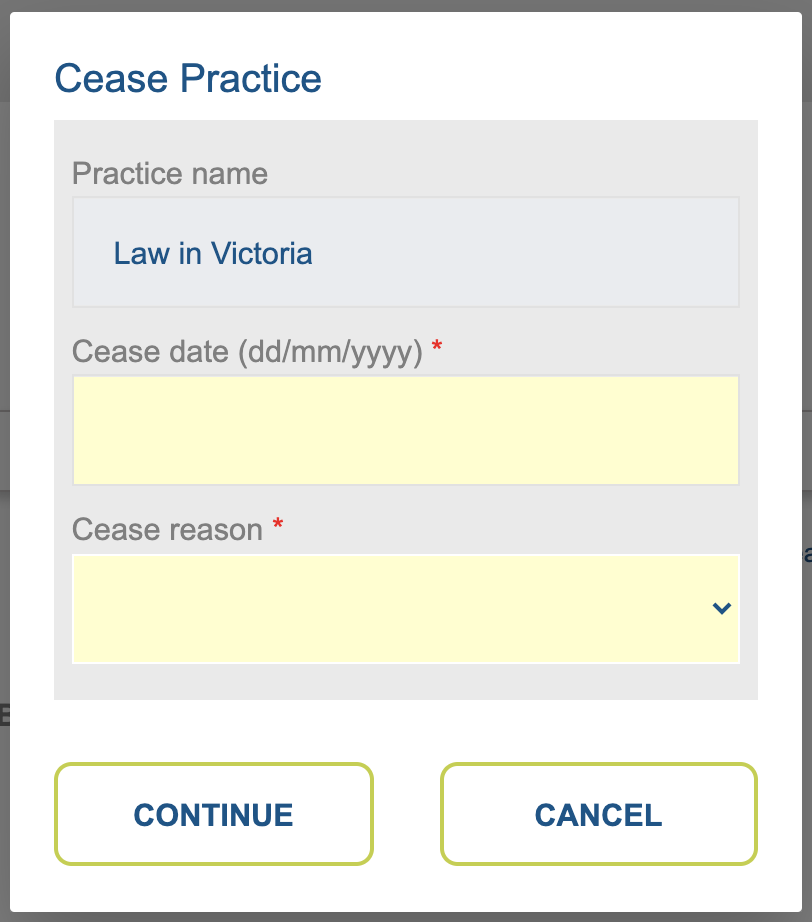 Click the blue 'Add practice' button to add your new employer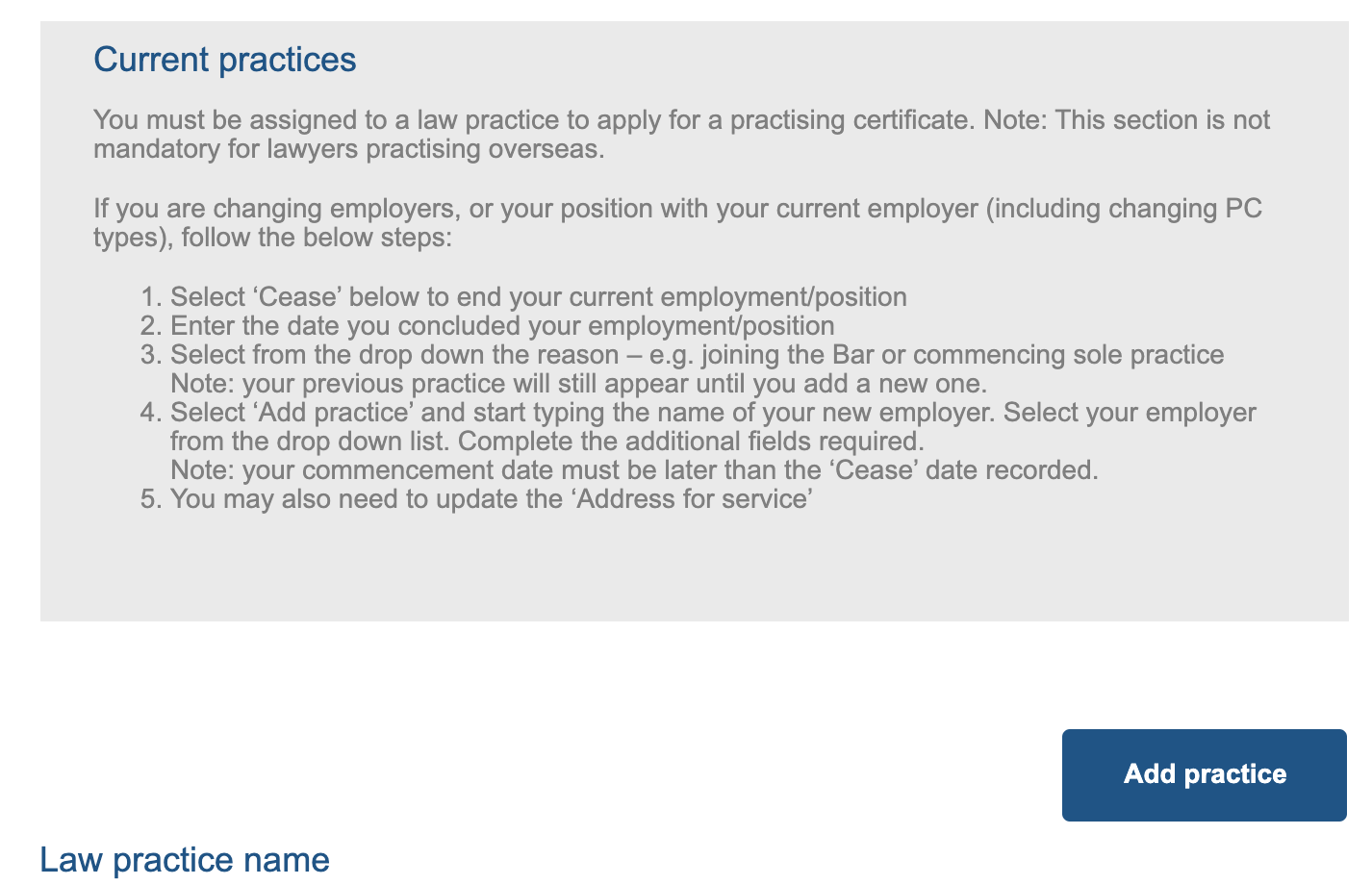 Start typing the practice/organisation name into the first box and then select the correct organisation from the list
The system will automatically populate the practice type and address
If you can't find your organisation on the list you will need to contact us via the lawyer enquiry form 
Select the 'Position type' from the drop down list
You can add multiple places of practice (for example, if you also work as a volunteer, or work two part time jobs), and you should answer 'Yes' to the place of practice where you spend the most time
Enter your 'Commencement date'. This must be later than your 'Cease date' above and can't be before the date you submit this application to us.
Click 'Continue'
You will now see your new employer details under the 'Law practice' section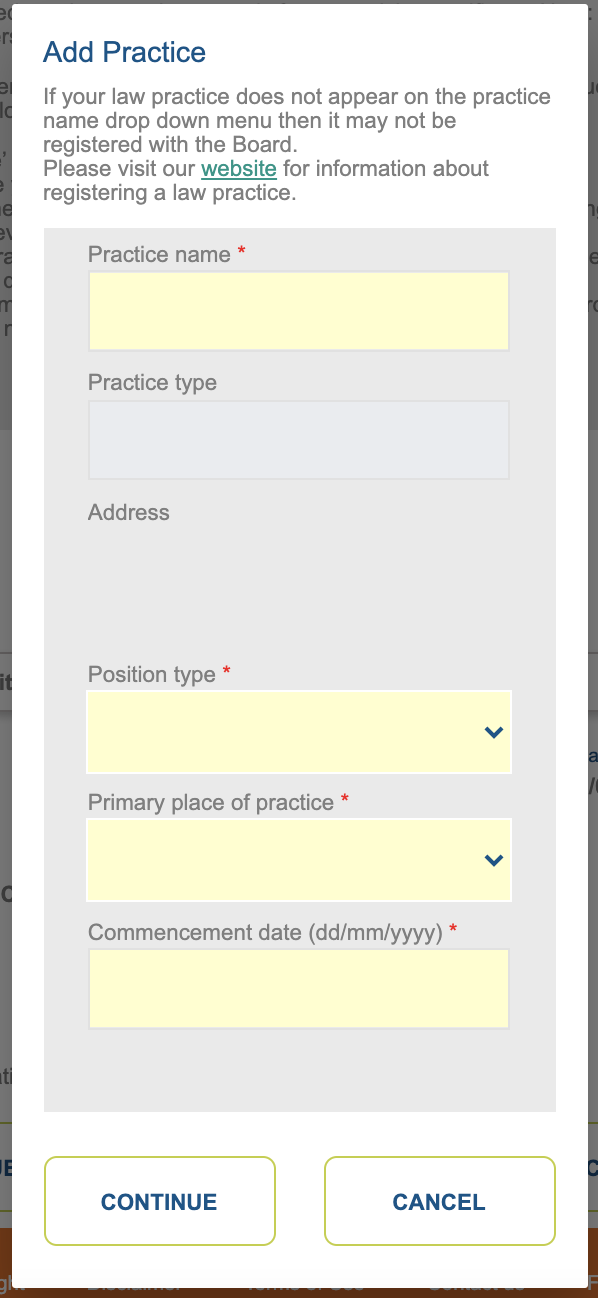 If your address for service has changed you will now need to update this. This must be a street address, and the suburb, state and postcode will appear on the register of lawyers online
You can also choose a preferred mailing address which can be either your address for service or primary place of practice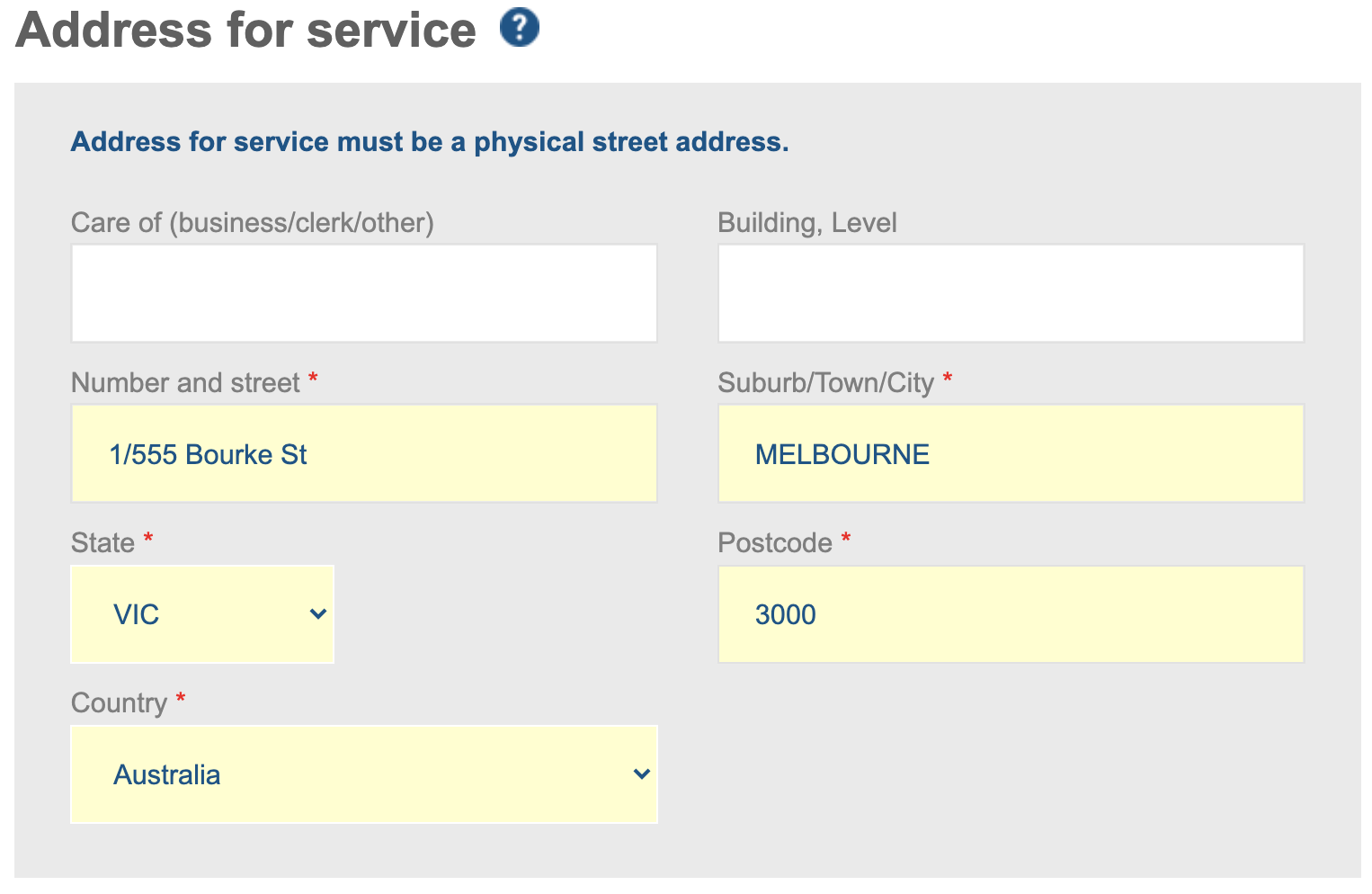 This section is not mandatory but provides valuable data for the sector. 
Information provided about areas of practice or languages can be included on the register of lawyers if you consent.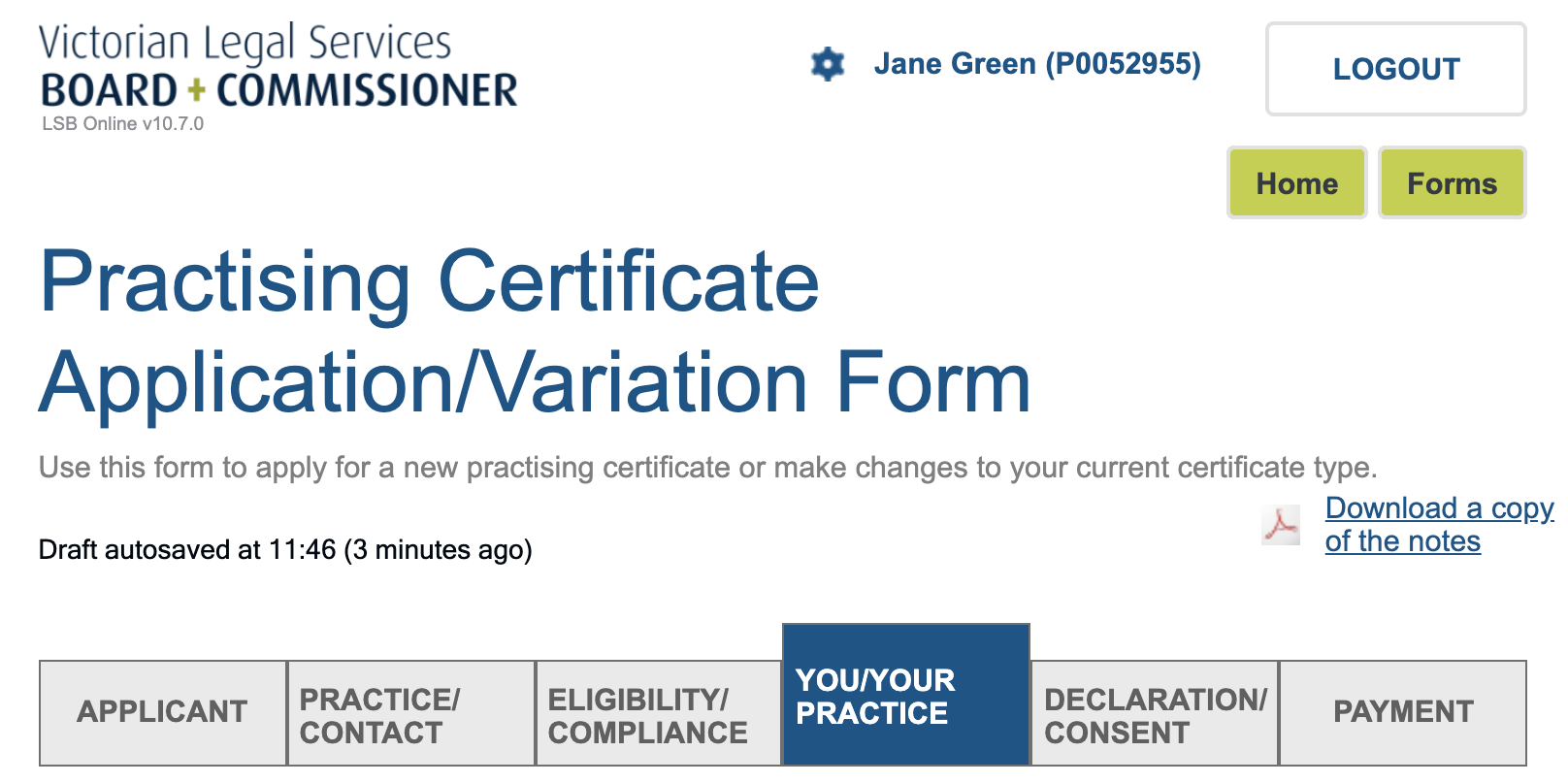 Tick the boxes for the areas of law in which you practice (or intend to practice). You can tick a maximum of 15. 
If you are already employed you can also enter details about the days and hours you work each week.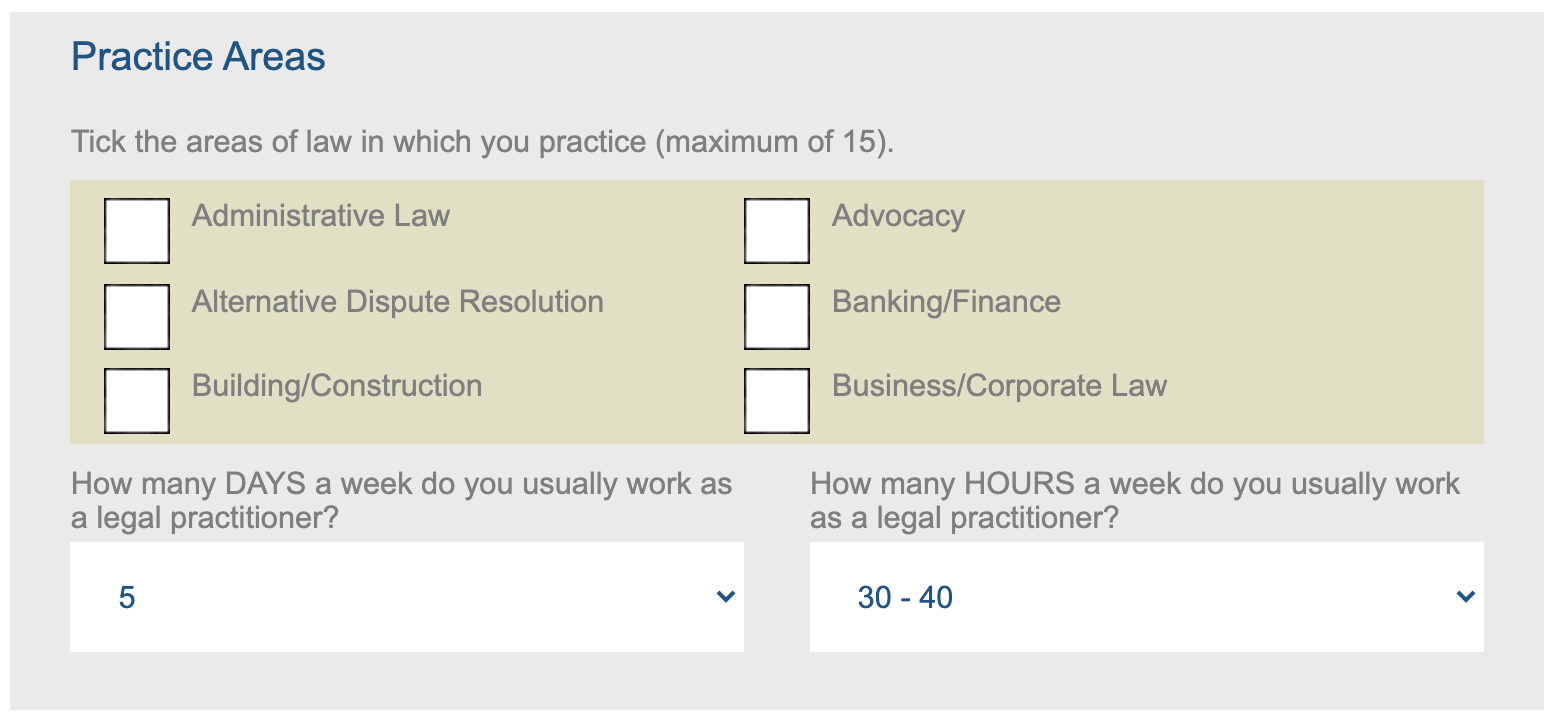 Select your country of birth from the drop down list
Select up to two ancestries
Tick the boxes for any languages that you speak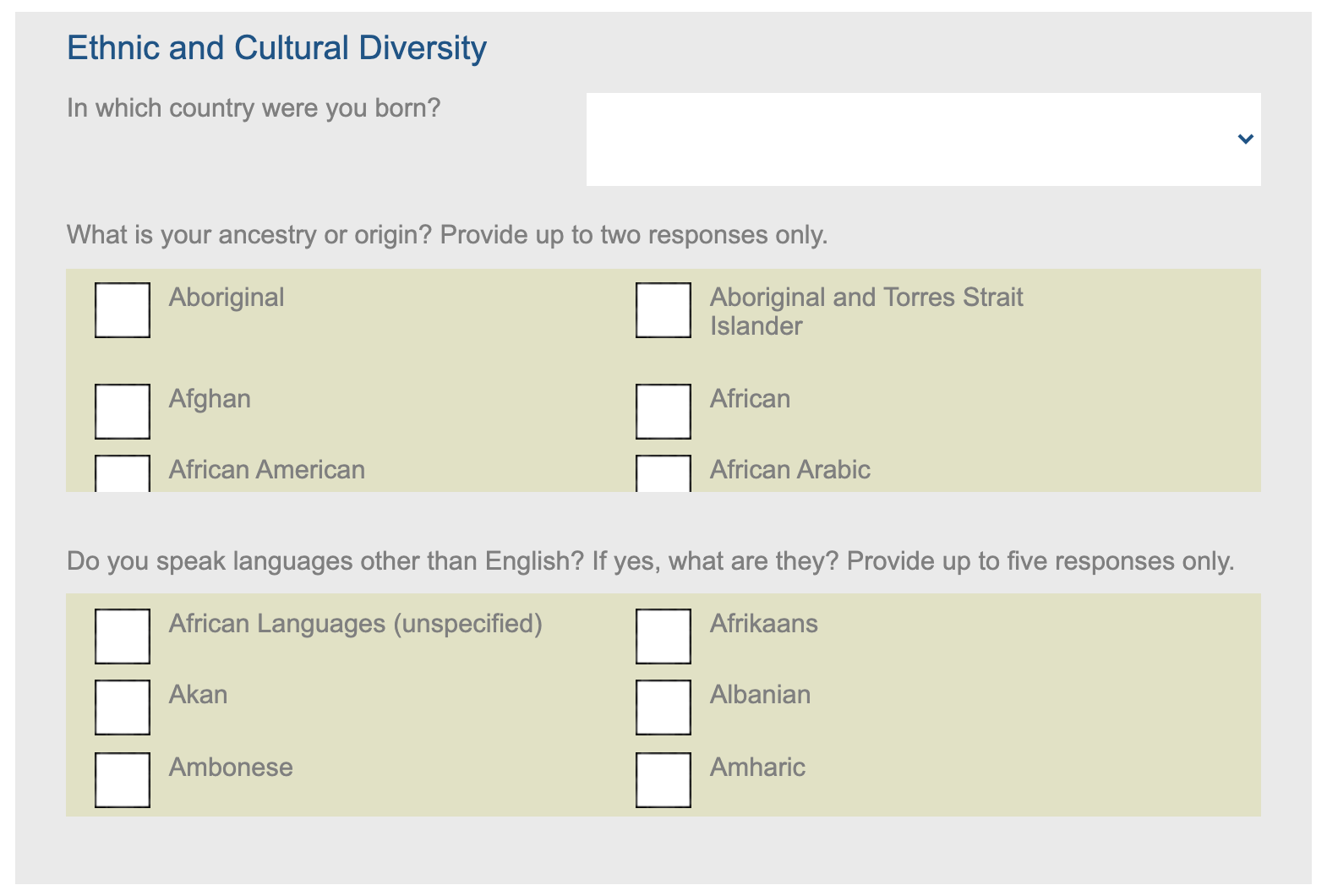 Select 'Yes' or 'No' here to let us know if you already hold a practising certificate, or have recently applied for one, from a jurisdiction other than Victoria
If you are registering from interstate you must surrender any current practising certificates before you can submit this application
Enter a 'Tick' in the declaration box, which is your digital signature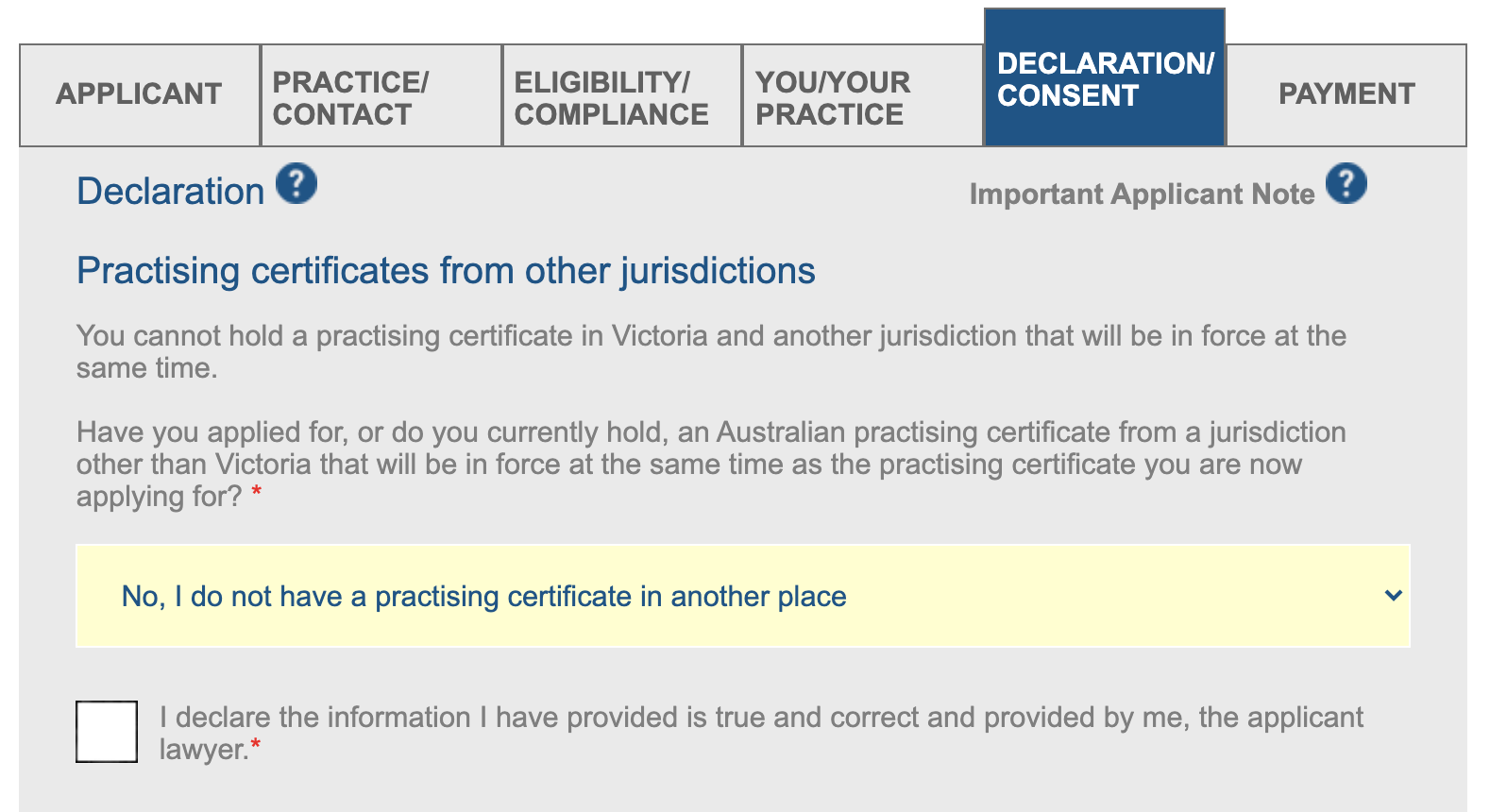 If you would like your information about areas of practice and languages to be included on the register of lawyers online select 'Yes' to the consent questions.
If you select 'No' but provided details in the previous section this information will only be used for de-identified reporting.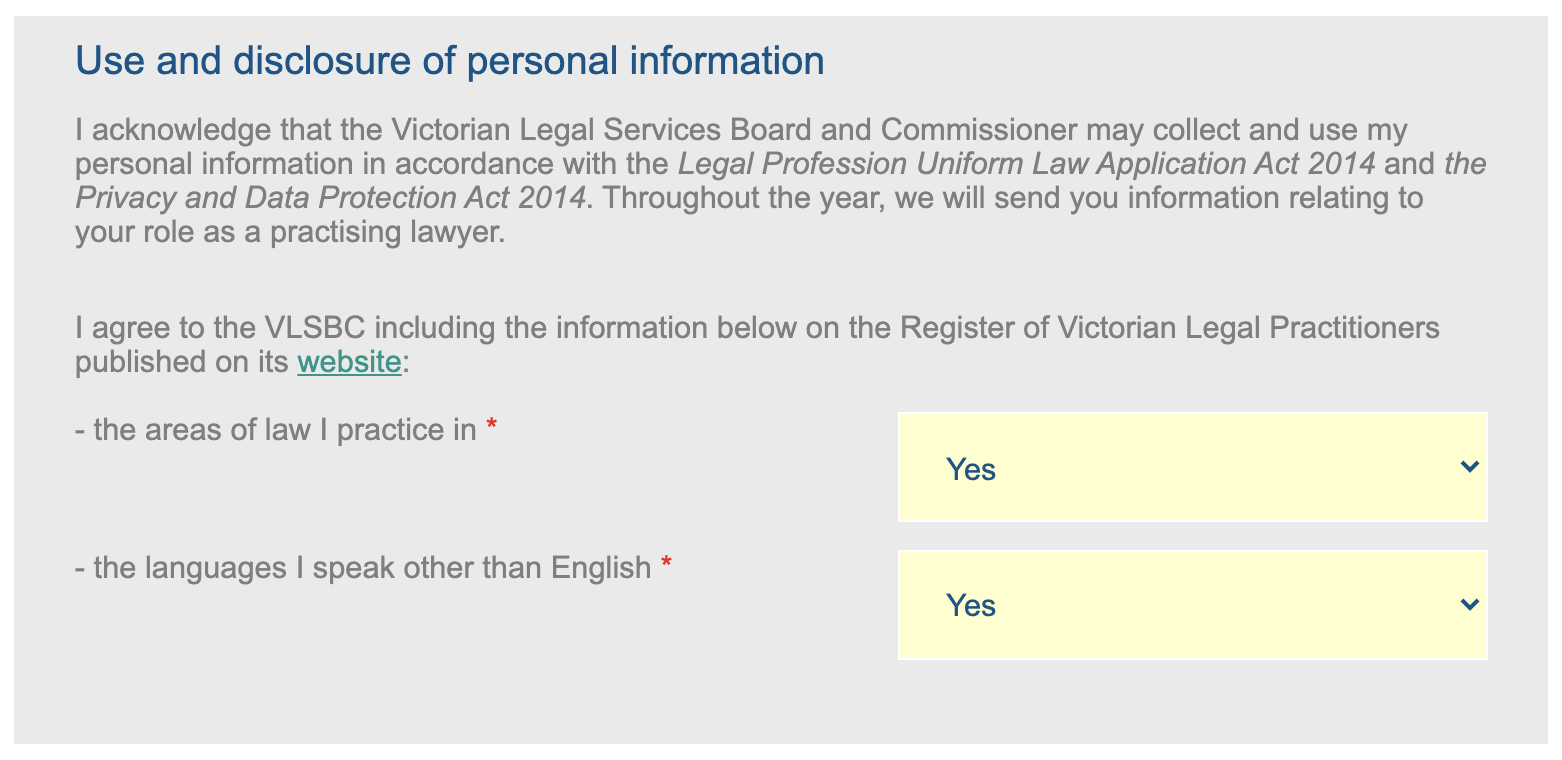 A summary of your information will appear in the 'Payment' screen
Click 'Confirmed' or go back and edit your information if incorrect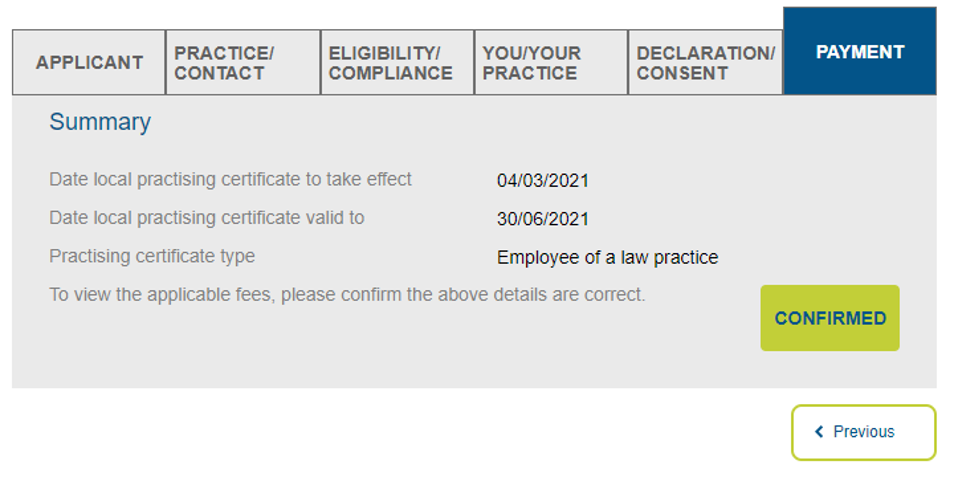 Your fees will now display, including if there is a difference between your new certificate type and your old certificate type
We can't issue you a refund if your new certificate costs less than your previous one
If you owe money
Select your payment method. You can pay by BPAY or credit card
If you select credit card the payment screen will load and you can enter your details. A tax receipt will be emailed to you.
If you select BPAY we will email you with the BPay payment details
We can't issue you with a tax invoice for later payment. You need to select either credit card or BPAY to submit your application.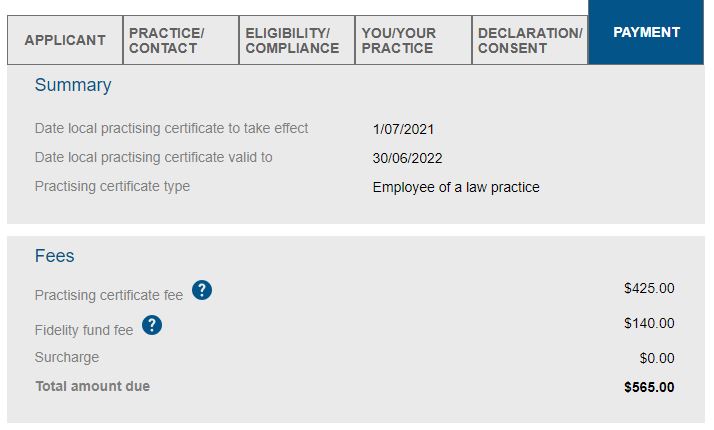 Click 'Submit' to send your application to us for review. If you don't click submit the application will remain in draft form and you will not get your new practising certificate.